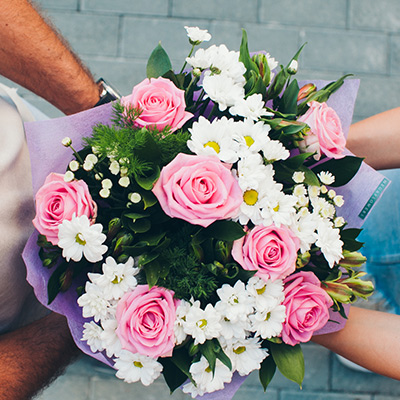 Fashion trends in floristics in 2018 offer us a design of bouquets in delicate pink hues. Someone thinks pink & ndash; color of happiness, someone - female color. What do you associate pink with?
Pink in symbolism and culture
Since ancient times, pink has been considered a symbol of joy, sincerity and optimism. In it, everyone recognized his own carefree childhood and youth. No wonder the princess wore pink dresses. & nbsp; And knights wore images of pink roses on their armor, ready to fight for good and light. Pink candles in Catholic churches symbolize pure joy. And in ancient Greece, pink was the color of the goddess of love.
How pink color affects a person
Pink is used in meditation and color therapy in order to recover from illness and to relieve fatigue. It stimulates blood circulation and the work of internal organs. In psychology, the pink color is in the group of colors - antidepressants. Pink color helps to forget about the unpleasant past and tune in to the future. To overcome depression, psychologists recommend meditating on a pink candle or a pink stone. Pink & ndash; color of relaxation.
Do you like pink?
You can be called an optimist or even an incorrigible romantic. You see only good in everything and never allow yourself to be rude. Key weaknesses of pink lovers & ndash; naivety and penchant for self-sacrifice. However, such people have a very rare quality - for a high idea, you are ready for anything!
Want to cheer up your loved ones and give them a positive mood? Or maybe they have a & laquo; pink & raquo; character? Then they will be very pleased to receive as a gift pink bouquets from Megaflowers!
Hurry up to order a bouquet and stay the same positive, how these bouquets!